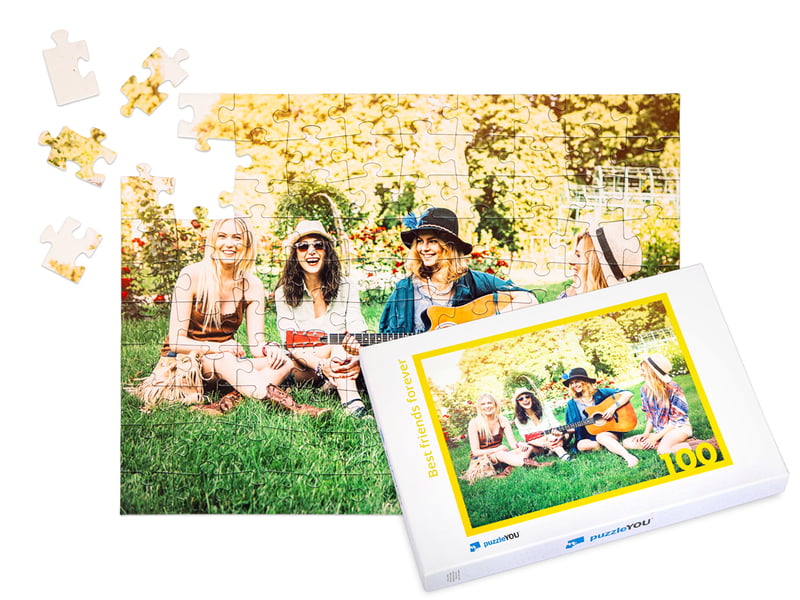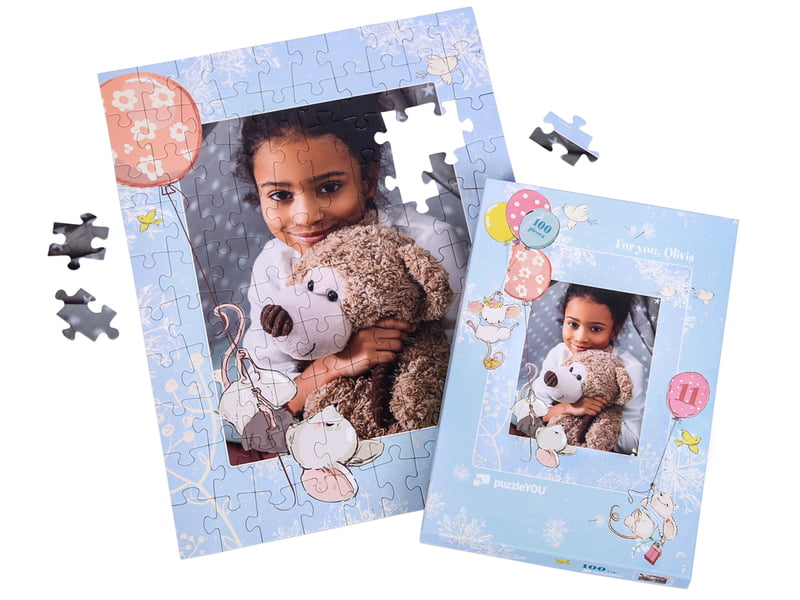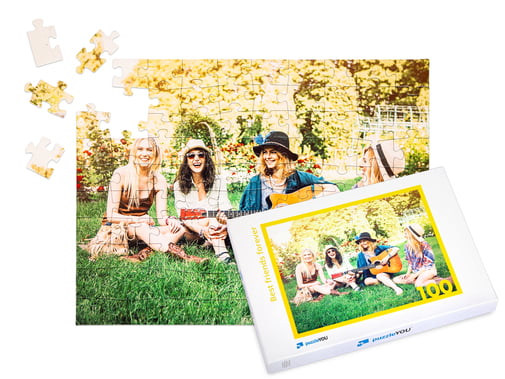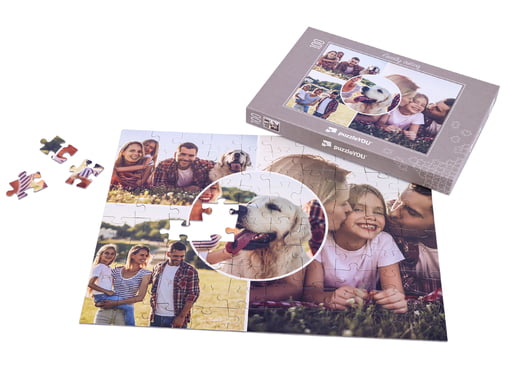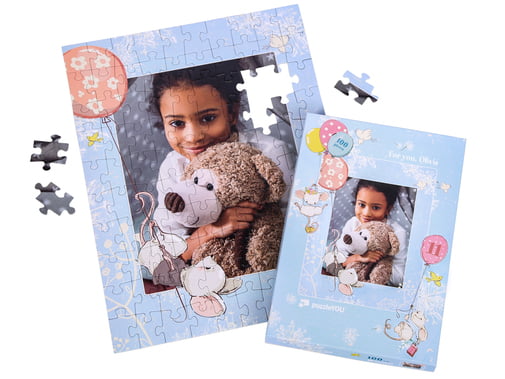 Personalised Jigsaw 100 pieces
» Product ratings:
dummy-detail-value
Size: ca. 48 x 36 cm
Ideal for children and the elderly
Amazing box layouts for
all possible occasions
100 Piece Photo Jigsaw with Success Guarantee
Size of the box:
Size of the assembled puzzle:
Size of the pieces:
Thickness of the pieces:
The 100 piece jigsaw puzzle within your Advent calendar
Anyone can give a regular Advent calendar as a gift. How about something a little more unusual? One with a personalised 100 piece jigsaw puzzle? We'll show you here that this is really not difficult to do and as the icing on the cake, it can be designed in a super creative way.

Tips & tricks for your personalised jigsaw
Recommended minimum resolution of the image
The printing result strongly depends on the resolution of the photograph. For a 100 pieces photo puzzle we recommend the following image size:
3409 x 2567 pixels
Important: Please do take care that your photograph does not have an insufficient sharpness or a deviating tint and be sure that it has not been underexposed. If there should be any doubt about the quality of your picture, please contact us, send us the image, and wait for our reply before placing an order. We will be glad to check your image beforehand.
Tip for choosing an image for children
Children love animals - no matter if it is a beloved pet, or a wild one from the zoo. Why not just capture the dog, the cat or a bear and put it on the jigsaw puzzle? To make it easier to assemble the puzzle, we recommend using several pictures. Instead of one large jigsaw, several sections can be put together to achieve the desired result. And best of all: a personalised 100 piece jigsaw puzzle for children also has a positive effect on their development.
Photo puzzles for all-rounders
Small gifts maintain friendship. Our personalised 100 piece jigsaw puzzle can be designed in various ways: as a game, a wall decoration or even as a voucher. It is made of 100% environmentally friendly recycled cardboard and it is a personal and individual photo gift with which you can make your loved ones happy for a long time, thanks to high-quality production and a 15-year guarantee.
Image choosing tip for adults
Thanks to our ever-present digital assistants, we take more and more photographs than ever before. You probably also have beautiful photos on your mobile phone for which there is simply no place in your room. Solve the problem with our compact puzzle boxes: turn your favourite selfies into a personalised 100 piece jigsaw puzzle and put it in between to save space and time.
Creating a 100 piece jigsaw puzzle – This is how it works
The personalised 100 piece jigsaw puzzle quickly guarantees a feeling of accomplishment. The 36 x 48 cm photo puzzle can be assembled again and again. We give a 15-year guarantee on this playtime fun. Choose a suitably lovely photo that you can't get enough of. Baby photos, wedding pictures, holiday snapshots or birthday selfies become permanent highlights on the personalised 100 piece jigsaw puzzle.
Small Puzzles, Large Impact
puzzleYOU are getting greener - be a part of our initiative.
Recycling saves resources

A great, high quality product does not always require brand new materials. We here at puzzleYOU find recycling works just as well. We discovered a way to integrate recycling and trust in recycled materials, e. g. our 100 % recycled jigsaw cardboard. This is how we save a large amount of new materials and decrease resource waste. Because of resource recycling in our company we also save on carbon waste and can leave behind a green footprint.

From our early days, as we where know under the name myphotopuzzle.co.uk, we at puzzleYOU have been aware of our impact on the environment. Find out more about our sustainability policy.
Puzzle variants
Choose your photo puzzle:
Puzzle accessories
Choose your accessory:
Reviews

Frequently asked questions
All prices include VAT and exclude postage.