The best gifts for Father's Day
When was the last time you told your father how important he is to you? How glad you are, that your father is in your life, always has your back, is a great grandpa, etc.? If it's been quite a while, it is even more important to use Father's Day to surprise your dad with a special gift.

Thoughtful & creative: Gift a photo puzzle for Father's Day

"I've said it before, but it's absolutely true:
My mother gave me my drive, but my father gave me my dreams.
Thanks to him, I could see a future."
- Liza Minnelli

2 in 1: Create a Gift Voucher Puzzle for your dad

The 8 best gift ideas for Father's Day 2023
Gift Voucher ideas for the small wallet
We have compiled the best ideas for gift vouchers for Father's Day 2023 here. With a self-designed gift voucher puzzle, you can highlight an unforgettable gift idea for your father. Whether a sportsman or a couch potato, every father will be happy with such a Father's Day gift. Let yourself be inspired! These are the 8 best Father's Day 2023 gift voucher ideas for the small wallet: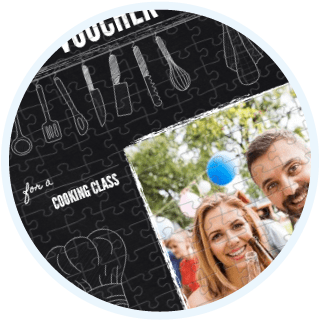 Visiting a restaurant:
The warm summer days and gentle evenings are best enjoyed with good food and pleasant company. Book a table at your dad's favourite restaurant.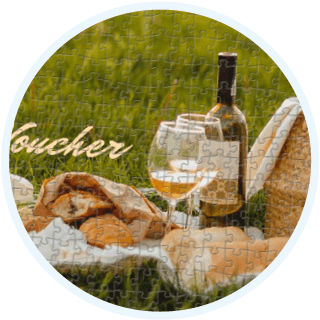 Organise a picnic:
If your father would rather be in the kitchen himself, then why not prepare a delicious picnic menu together? Don't forget to bring his favourite drink! If you take care of the shopping, the driving and the washing up, the day will be a success.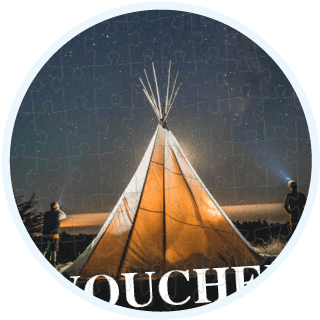 Camping or Glamping:
There is even more nature when you go camping together. You can rent a camper van or book a glamping luxury accommodation.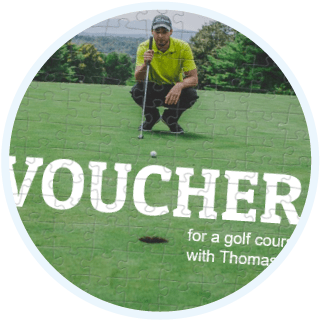 Golf or fishing:
These two sports offer not only exercise in nature, but also pure relaxation. Invite your father for a day of golf, go fishing or take a course together.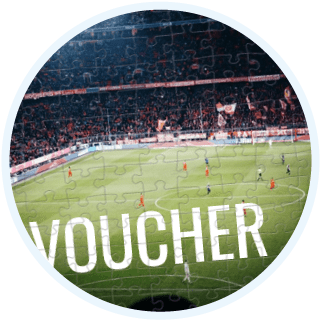 Tickets for a sports event:
Those who find golf or fishing too relaxed will be delighted by the great fan atmosphere at a sports event or a concert. If there are no more tickets, why not discover something new together? Maybe your dad has always wanted to go to a horse race or see a tribute band?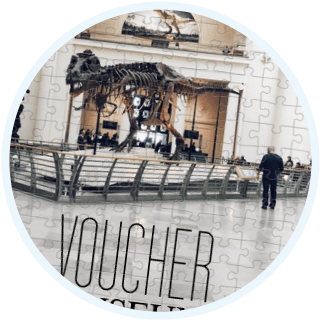 Visiting a museum:
Many museums or art galleries offer exciting exhibitions and often organise themed events to participate in, especially in summer. Many cities organise annual museum nights during which you can visit many different museums.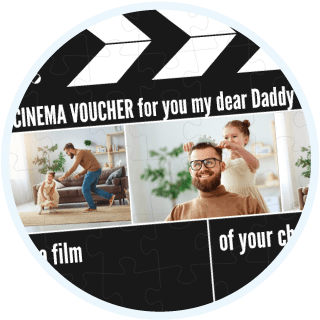 Going to the cinema:
Would you rather sit comfortably? Works too! Get cinema tickets for you and your father and watch the latest blockbuster or the obscure masterpiece from avant-garde cinema together. The topic of conversation for the subsequent dinner or barbecue is thus assured.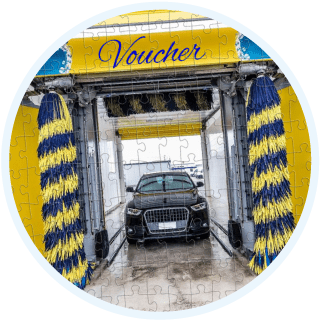 Car care:
To be honest, How often does your father allow himself a professional wash for his car with all the trimmings? Instead of having your father mop and wax himself for hours on end, why not let a professional do it for him? Then you'll have plenty of time together on Father's Day for a trip in style.

Voucher ideas when money is less of an issue
If you really want to spoil your father on his special day, you should dig a bit deeper in your pocket. For active retirees or new heads of families, we have collected relaxing, action-packed and enjoyable gift ideas that look particularly good on the gift voucher puzzle. Here are the 8 best Father's Day gift ideas for 2023 for the larger wallet: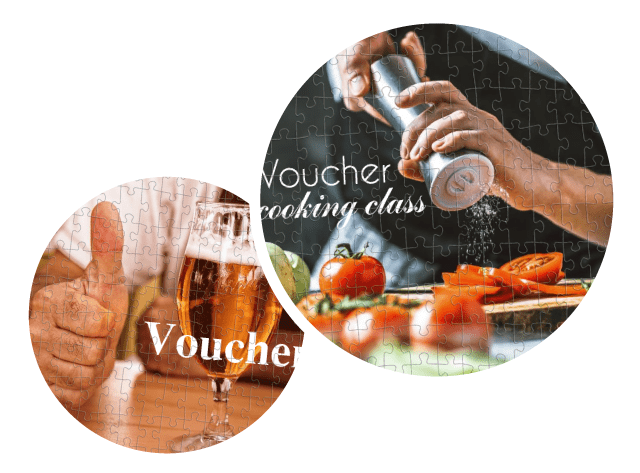 Brewery tour and beer tasting: The sense of taste also wants to be challenged. Whether modern beer varieties or traditional craft, discover the variety of the so called liquid bread together with your father. Don't forget to arrange for a driver who will stay sober.
Cooking course: If your father loves to cook, a day with a professional chef is just what he needs. New tips and tricks can always be learned, whether about cooking in general, barbecuing or country-specific cuisine. And you will benefit when your father uses what he has learned at home.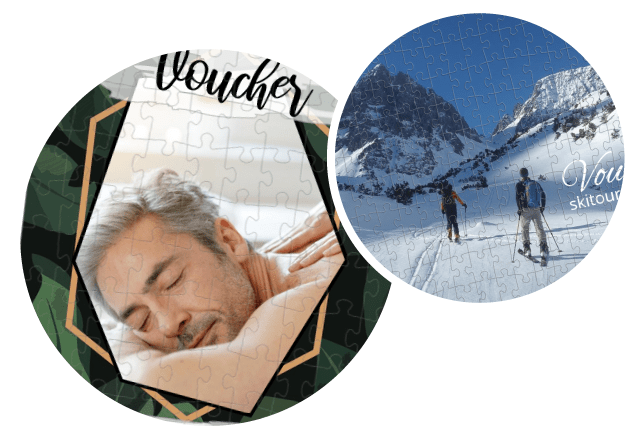 Winter sports holiday: Off to the slopes! Take your dad on a winter skiing or snowboarding trip. The puzzle voucher is particularly suitable for this, because your father still has a long time to puzzle out the surprise.
Wellness weekend: Massages are good for everyone! If your father doesn't get any rest all year round, he deserves the break. Swimming, sauna and all-round pampering - who could resist such an offer?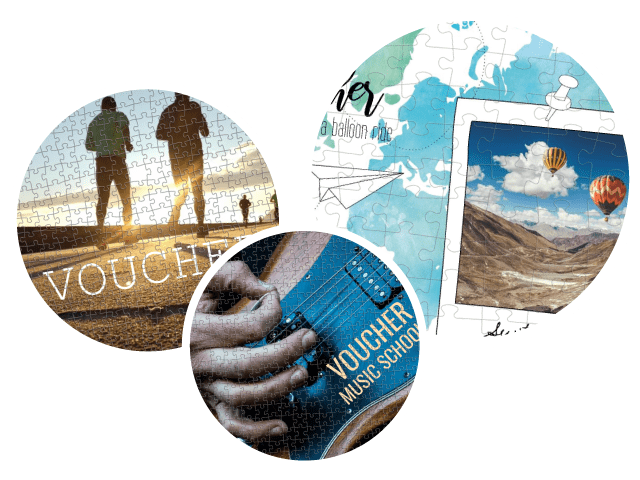 Personal fitness course: Make your father sweat and book a day with a personal. The training session, specially tailored to him, helps to strengthen mobility and circulation in everyday life.
Painting or music course: If your father likes to be creative, this is a very special gift. Painting and making music are relaxing activities that provide a good balance to physical or office work. Even if your father is already an enthusiastic artist or musician: There are always new methods or styles to discover in a professional course.
Balloon ride or helicopter flight: Get up in the air with your father! Your father will remember a ride in a balloon or a flight in a helicopter for a long time. Especially for hobby photographers, this would be a very special gift.
Create a Photo Puzzle Collage for Father's Day

Quotes for Father's Day
It's not a real Father's Day gift if you don't get a bit sentimental about it. Here are some Father's Day quotes and card sayings you may use to make your father extra proud of being a dad.

"When my father didn't have my hand,
he had my back."
- Linda Poindexter

"My father has always been my hero."
- Gregory Hines

"Dad: A son's first hero,
a daughter's first love."
- Unknown

"No love is greater than that
of a father for his son."
- Dan Brown

"If dad is my heart, mom is my heartbeat."
- Unknown

"It is a wise father that knows his own child."
- William Shakespeare

"A father is someone you look up to. No matter how tall you grow."
- Unknown

"To the world, you are a Dad. To our family, you are the world."
- Unknown

"My dad's my best mate, and he always will be."
- Cher Lloyd

"Dad, I may find my prince, but you will always be my king."
- Unknown

"Any man can be a father but it takes someone special to be a Dad."
- Anne Geddes

"A father is the one friend upon whom we can always rely."
- Emile Gaboriau
Create a truly unique Father's Day gift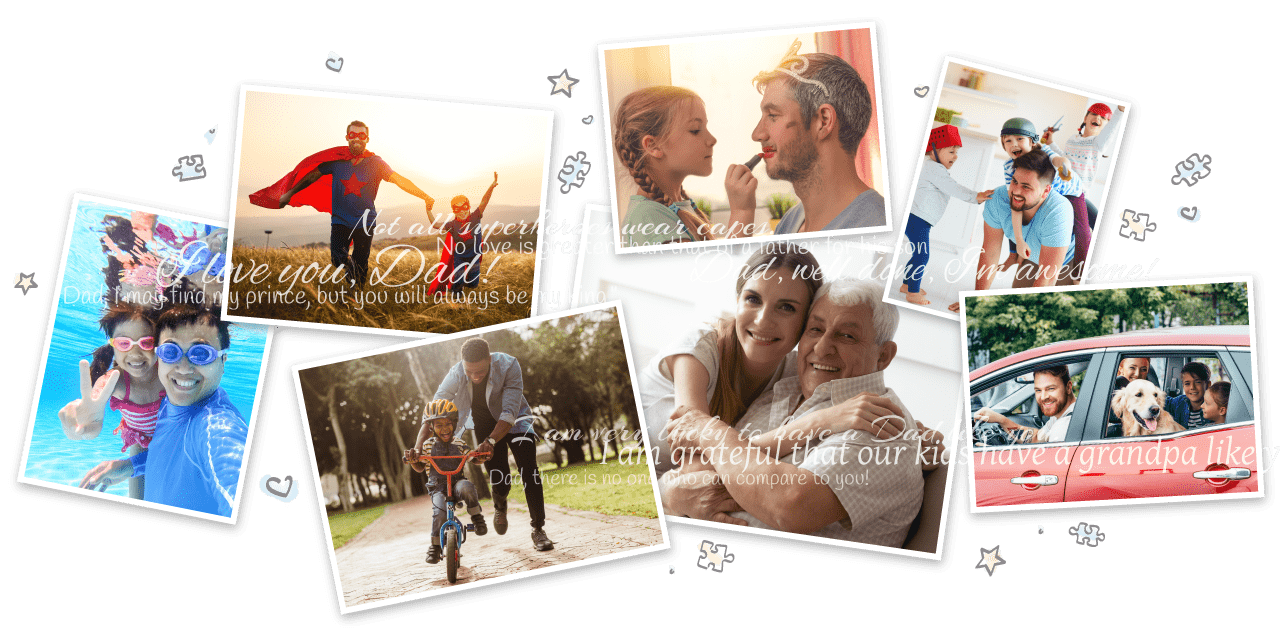 Choose the right pictures for your photo gift
We recommend you to choose pictures that fit best to your father's personality: A mixture of funny outtakes from family events or romantic moments between your parents. Action-loaded pictures of him pursuing his hobbies or make it more sentimental by choosing old childhood pictures for your own collage. Think about what would make your dad smile the brightest and go from there!
Find the right words for your photo gift
The message on your personalised photo puzzle is not everything. Why not put in a bit more effort and also give your dad a Father's Day card? With a card for Father's Day you can add sentimental value to your gift. You could tell a memorbale story from your childhood in which your dad helped you out or taught you something useful for life. Simply use this occasion to give a whole-hearted Thanks to your dad.

Short Father's Day card sayings
If the Father's Day quotes above are a tad too cheesy for you, here are some alternatives to keep it short but meaningful.
These sayings can serve as a box title or you could put them on the puzzle itself:

I love you, Dad!

Not all superheroes wear capes.

Thanks for always having my back.

Happy Father's Day!

For the best Dad ever.

Today we're celebrating the world's best Dad!

Dad, well done, I'm awesome!

I am grateful that our kids have a grandpa like you!

I am very lucky to have a Dad like you.
All prices include VAT and exclude postage.